P
Here's one I haven't seen yet. I came across it on
Stephanies
site and have to say it was more challenging than I thought it might be.
10 Things that start with the letter P
1.
Peaunt Butter. I love this stuff but not nearly as much as my DH does. We go through creamy peanut butter (his) twice as fast as the super extra crunchy (mine).
2.
Puddy Tat. Isn't she a cute one?
3.
Patty P. Pig. When I was a kid I loved pigs. I think it started with Charlottes Web if I remember correctly. I'm still quite fond of them actually. This little hand puppet was carried with me nearly everywhere and was part of our little family. It was the comedy relief on long trips and I'd entertain my little sister with it nearly every day. Interesting really, how movement can make something more real.
4.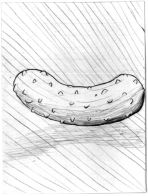 Pickle. I actually prefer the sweet variety to the dill. Particularly with hot dogs.
5.
Penguin
6.
Purple
7.
PBS
. Sesame Street, Electric Company, Reading Rainbow... Man I loved that channel...
8.
Paper
. Probably my second favorite medium (fiber would be the first if you were wondering... but you wouln't have any doubt of that I'm sure). I never really got into scrapbooking but I've always enjoyed drawing, note cards, and for some odd reason love to collect journals (though I rarely write in them for that purpose).
9.
Pink
10.
Punkin - Me. My nickname since I can remember has been Punkin.
Wanna play?? Pick a letter and have fun!